Whilst 'having a go' at facing fears is the best thing for your child's emotional recovery, there are techniques you can encourage in the moments when these emotions may be 'bubbling up' in.
Your child may experience some really intense physical symptoms, for example:
Racing heart
Sweaty palms
Upset tummy
Intense 'butterflies' in their stomach
Feeling hot
These symptoms can be really uncomfortable and can lead to more anxiety themselves. Children may think that is there is something physically wrong with them, or that something bad will actually happen.
It is important to acknowledge your child's symptoms and remind your child that:
There is nothing 'wrong' with them
These feelings are normal if you have experienced something frightening
This is no evidence that something bad will happen
These feelings will pass
There are certain things which can help with these feelings. Let's take a look at some.
Shifting the Focus 
Shifting your child's focus away from the physical sensations can interrupt the cycle of fear where the physical feelings themselves may lead to further worries and be seen as confirmation of their fears.
Identify what your child is feeling ("What are you feeling? Can you point to where you are feeling this in your body, please?")
Acknowledge and validate the feeling ("Your hands are feeling shaky – that must not feel very nice.")
Move onto another activity (e.g., play a game or do an activity together)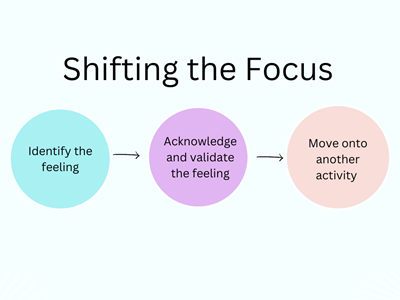 3-3-3 Technique
If your child has difficulty shifting their focus, you can try a simple mindfulness technique called the 3-3-3 technique. Here, you can sit down with your child are name:
Looking around and naming 3 things they can see
Listening to identify 3 sounds they can hear
Moving 3 parts of their body
This can help shift focus away from any unpleasant fear-related feelings.
You can click on the image below to save it and keep as a handy reminder.